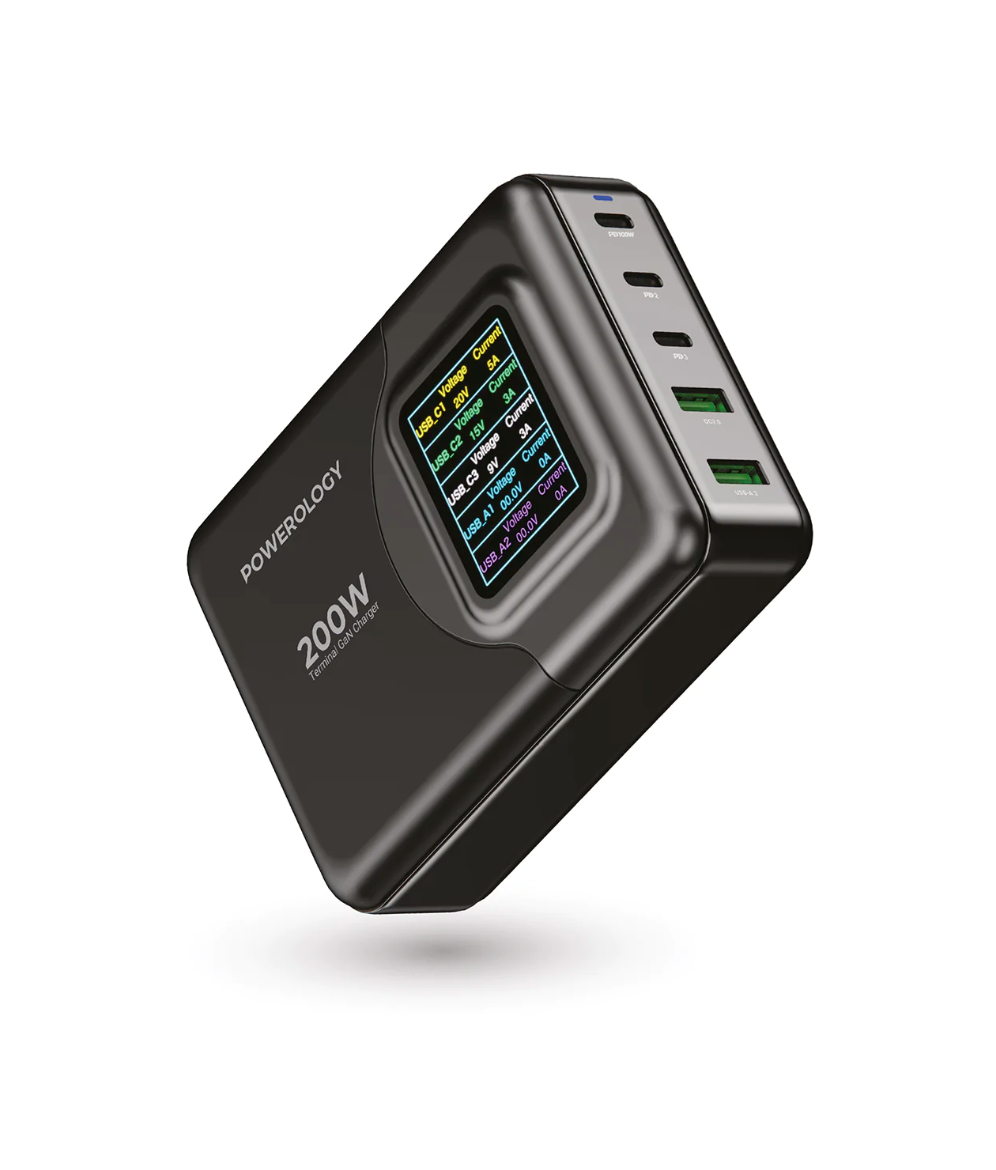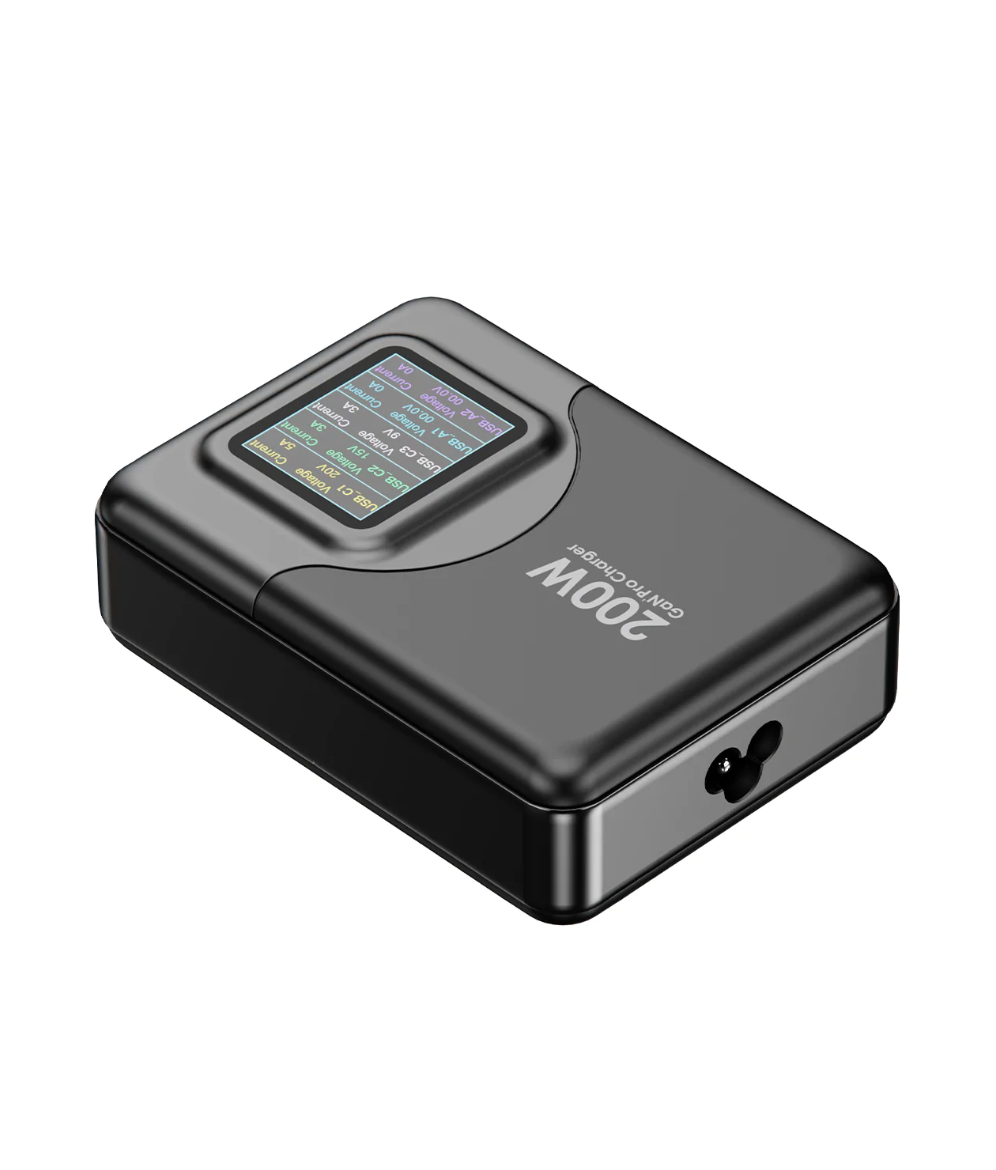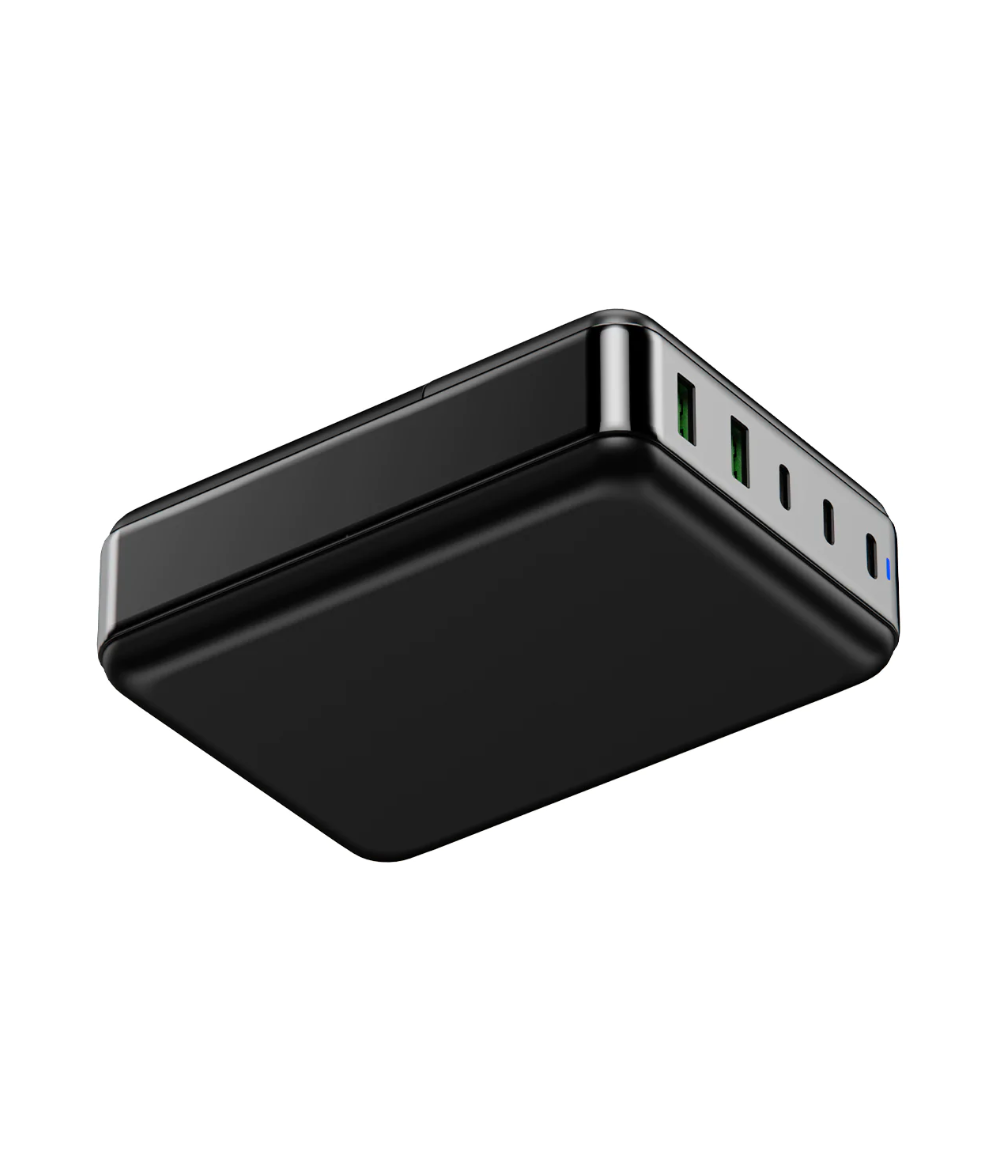 Powerology 200W GaN Smart Terminal With Display )3 PD Port + 2 Q.C Port( - Black
---
Looking for a gadget to help you charge multiple devices at once? Or a powerful charger to deliver super-fast charging for your electric devices? With our newly designed USB multiport charging station charge your phones, laptops, and small electronic devices with no hesitation. 
The Powerology 200W GaN USB Multiport Charging Station Power terminal offers full-speed charging for up to five devices at the same time. 
200W Robust Charger 
This USB multiport charging station truly defines the definition of powerful. The total output power is 200W while using all the ports simultaneously. Isn't it amazing? In general, it provides 100W at every USB-C port and 22.5W at each USB-A port. 
Super Fast Charge in 35 Minutes
Charge your device battery up to 60% in just 35 minutes. This charging speed is usually available with single port adapters. However, the Powerology USB Multiport Charging Station offers this great feature through all the USB-C ports. 
3 Power Delivery Ports
Overall, there are three USB-C power delivery ports in the Powerology charging terminal. Each of these ports provides a maximum power of 100W. Yet, this value changes depending on the usage. In other words, if you use the three USB-C ports at the same time; the 200W power will be distributed equally among the three USC-C ports.
2 Quick Charge Ports
The Powerology 200W charging terminal has two USB-A quick charge ports. Each of these ports is capable of delivering 22.5W power. 
LED Voltage Display 
The best feature of the Powerology 200W charging terminal could be the LED display. It provides you with the exact details about every single port. This LED display is specially designed to view the voltage of every port. Hence, you can choose the port with the suitable charging voltage for your device.
Elegant and Compact
With the advantage of GaNFast technology, this multiport charging station can operate faster while the charger components take up less space. We have improved the product's design and introduced the compact design charging terminal. The new design allows you to carry your charger around effortlessly. 
Built-in Protection
Our 200W charging terminal has built-in protection which will keep your devices safe against many incidents. Such as over-charging, over-heating, over-current, and over-voltage. 
Features
Built-In Safeguards with Active Protection 

Rapid Charging 0%>60% 35 Minutes 

Suitable for Using as Laptop Charger

3PD Fast Charging

Power Dash 3.0

USB-A
Specification
Input: AC 100-240V, 50/60Hz, 3A MAX
USB-C PD Output: 100W 3.3V-21V/5A, 5V/3A, 9V/3A, 12V/3A, 15V/3A, 20V/5A
USB-C 2 Output: 100W 3.3V-21V/5A, 5V/3A, 9V/3A, 12V/3A, 15V/3A, 20V/5A
USB-C 3 Output: 100W 3.3V-21V/5A, 5V/3A, 9V/3A, 12V/3A, 15V/3A, 20V/5A
USB-A Output: 22.5W 4.5V/5A, 5V/4.5A, 5V/3A, 9V/2A, 12V/1.5A
USB-A 2 Output: 22.5W 4.5V/5A, 5V/4.5A, 5V/3A, 9V/2A, 12V/1.5A
USB-C 1/2/3 + USB-A 1/2 Output: 100W+65W+20W+15W
Total Output: 200W