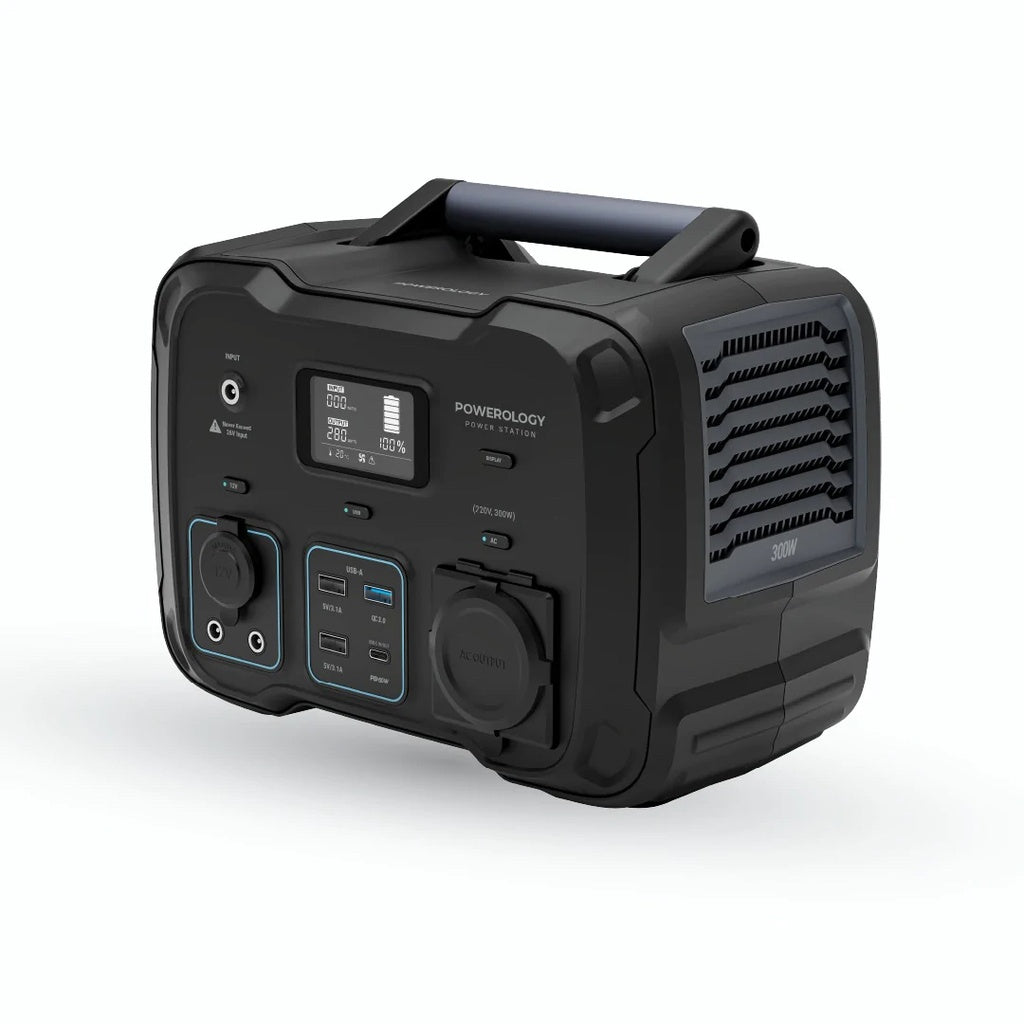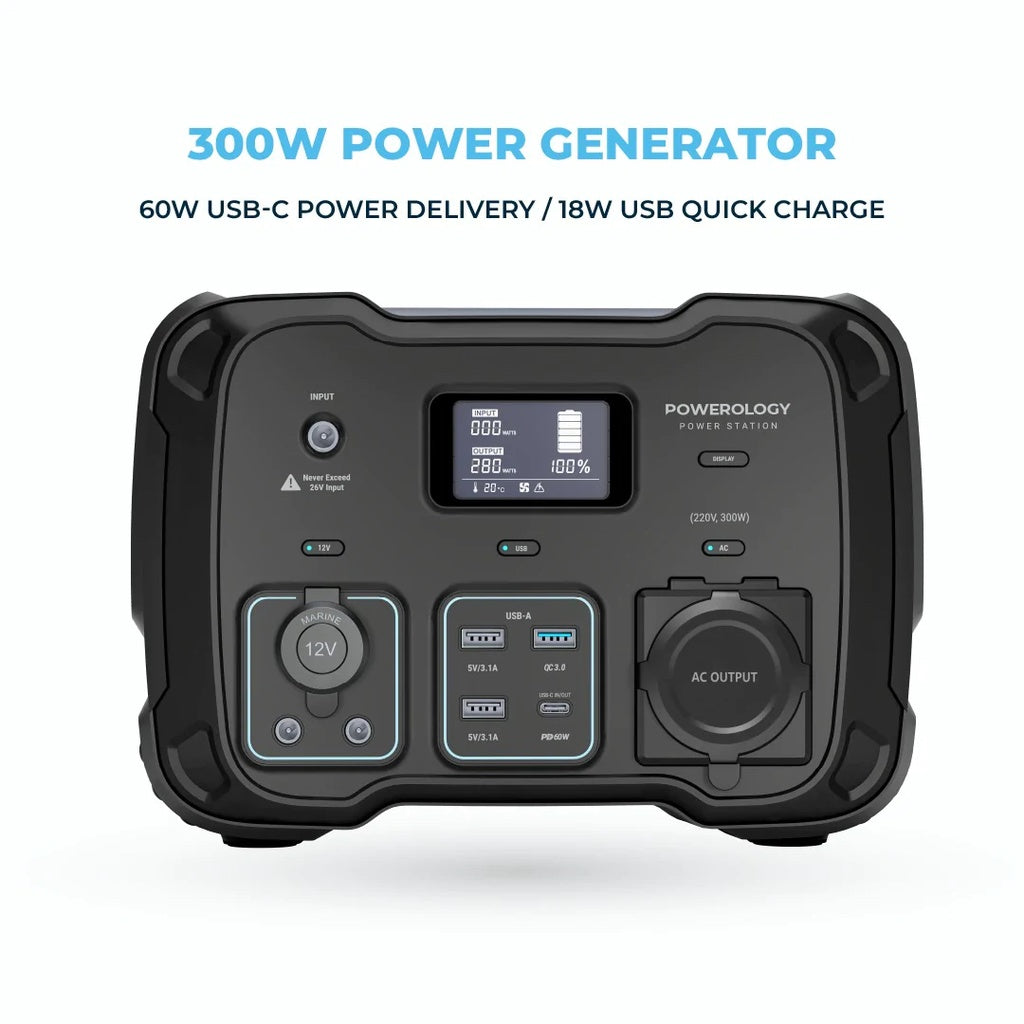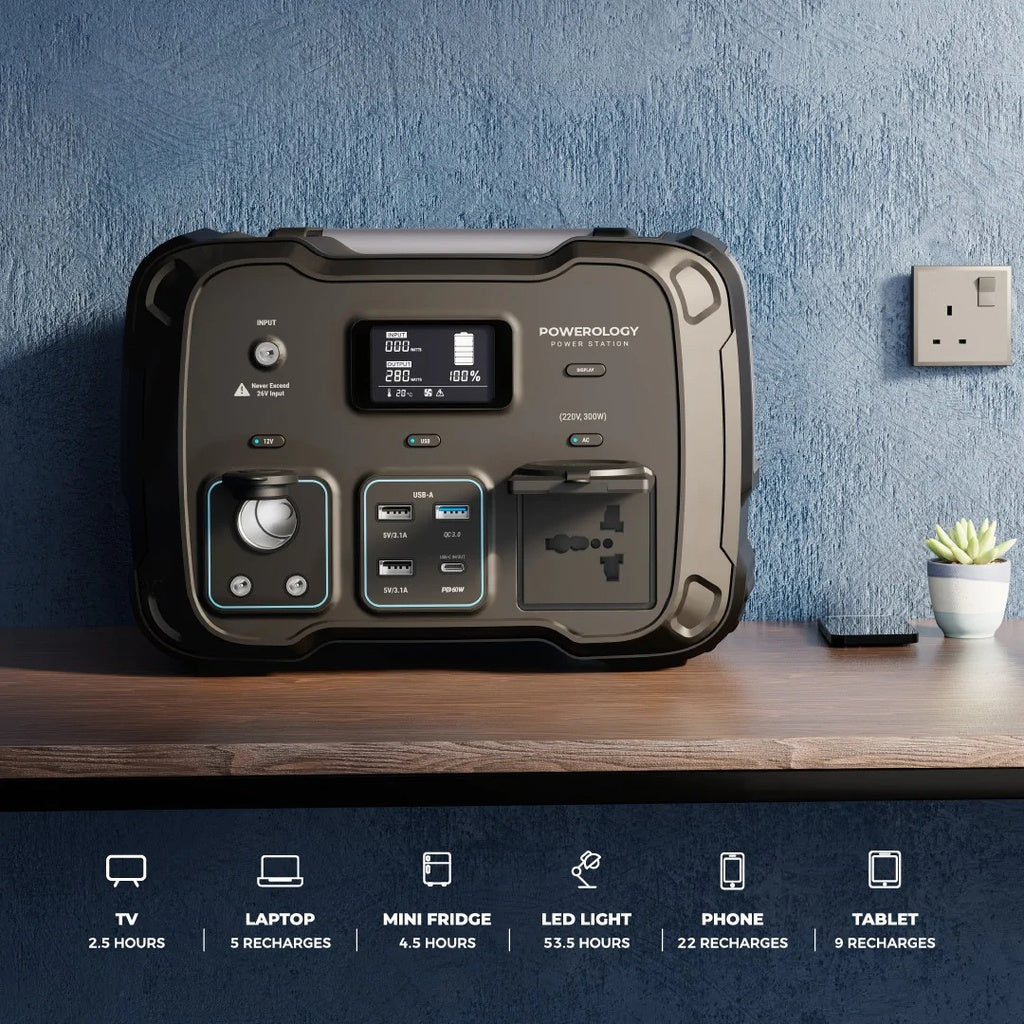 Powerology Portable Power Generator 78000mAh 300W PD 60W - Black
---
Features
Power Up To 6 Devices At Once
Fast Charge
Compact Design
Portable & Reliable
Over-Load Protection
Solar Re-Charge
500W Max Surge

Specification
Battery Capacity

: 280.8Wh
DC Input: 72W
AC Output: 240-220V
USB-A Output

 

x 15.5: 2W
USB-A QC Output: 18W
USB-C PD IN/OUT: 60W
Car Port Output: 120W
DC Port Output

 

x2: 60W

Operating Temperature

: -10°C to 40°C

Charging Temperature

: 0°C to 40°C

Product Dimension

: 258.7 x 157.3 x 118.2 mm

Product Weight

: 3.8 Kg
Sometimes finding the right generator is a tricky job. It requires time and effort to find the best portable generator. In Powerology we have done the research for you and have produced 300W Portable Generator 78000mAh Pure Sine-Wave Output. this generator can be used for personal and commercial uses.

Powerology is the leading supplier of portable power generators in the Middle East. Our 300W portable generator is available in the market and we provide worldwide delivery.

78000 mAh Battery Capacity
Powerology power generators are popular because of their great capacity and versatility. With our 300W portable power generators featuring 78000 battery capacity, we offer you comprehensive solutions.
Economic and Environmentally Friendly
Eventually, you will experience the best camping moments with the Poweology 300W portable generator. It is economically and environmentally friendly as it supports solar panel re-charging. When you have a power generator with you, it will give you peace of mind. You will no longer be worried about running out of battery or light. 
Multiple Charging Ports
Powerology 300W portable generator is highly efficient when it comes to charging multiple devices simultaneously. With USB-A and USB-C designated ports you can charge a wide range of electronic devices. 

There are three other ports that allow you to charge the generator with different methods.
One is the adaptor which the cable also comes in the package. Another way is to use a solar panel to charge through the designated solar panel port. Lastly, you can charge this product using a car lighter auxiliary port.
Portable and Relatively Light Weight 
Basically, If are thinking to buy a power generator, there are many factors that you need to keep in mind. At first sight, you might think the power capacity is the only important factor that you should consider. But, we can tell you that there are important factors such as charging options, product weight, size, and product compatibility.

Obviously, Living in areas with extreme weather conditions requires pre-cautionary actions. Coming to that having a portable power generator can save you from many unpredicted incidents.

Powerology 300 watts portable generator is carriable and can fit in your car or in your garage. The relatively light weight of this product allows you to carry it with you to any room in the case of a power outage.

Security & Maintenance
Do not short-circuit the unit. To avoid short-circuiting, keep the unit away from all metal objects (e.g. coins, hair-pins, keys, etc.).
Do not heat the unit, or dispose of it in fire, water, or other liquids.
Keep away from high temperatures. Do not expose the unit to direct sunlight.
Keep away from high humidity, and dusty places.
Do not disassemble or reassemble this unit.
Do not drop, place heavy objects on, or allow a strong impact on this unit.
Powerology 300-watt portable generator is not intended for use by persons (including children) with reduced physical, sensory or mental capabilities, or lack of experience and
knowledge unless they have been given supervision or instruction concerning the use of the appliance by a person responsible for their safety. 
Children should be supervised to ensure that they do not play with the
appliance.
Do not cover the device with towels, clothing, and another item.
Use the unit properly to avoid electronic shock.
Please deal with scrap products in accordance with the regulations, and do not treat the built-in battery as household garbage, so as not to cause explosion and pollution.
The product is only used for emergency power stations; it can not replace the standard DC or AC power of household appliances or digital products.