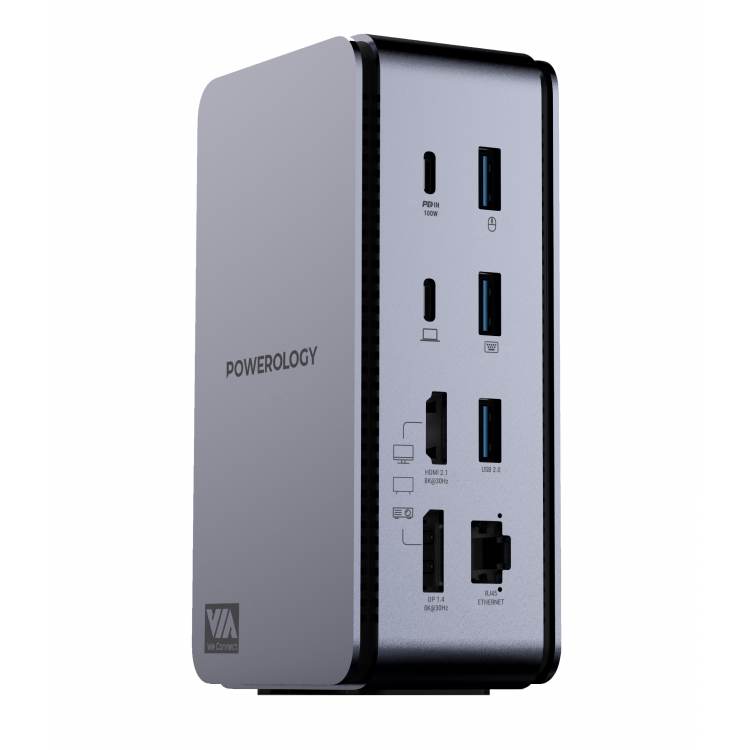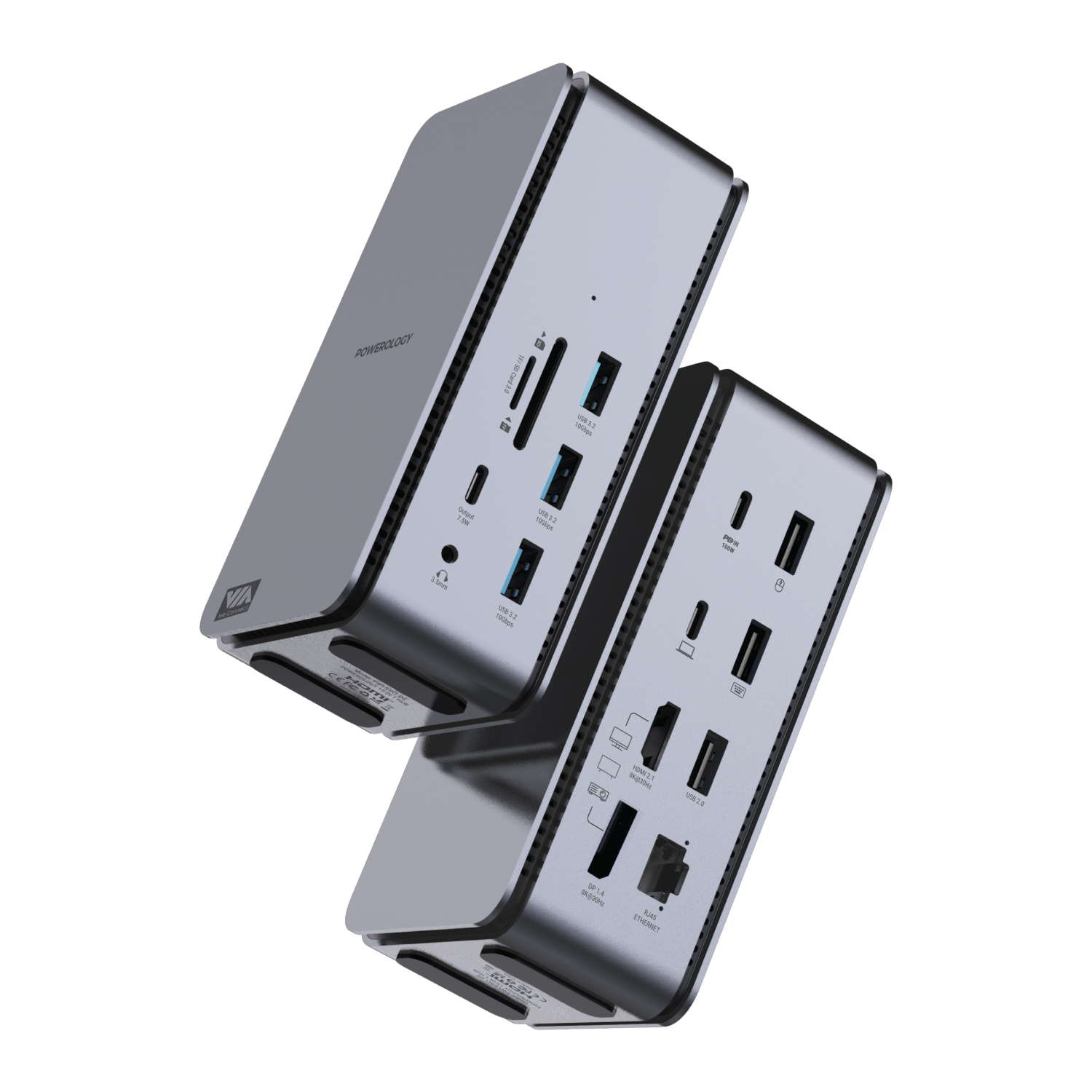 Powerology 15 in 1 Dual Dock Station PD 100W - Grey
---
A docking station contains many types of connections in one device. A dual monitor docking station allows you to connect devices that you could not do in the past. Devices like flat panel monitors and digital cameras are not always compatible with laptops.
By plugging the devices into the docking station, you can enjoy the increased visibility that is provided through a larger monitor. Your laptop becomes the brain of a full-featured workstation, and the docking station handles all the adapting devices. As a result, you don't have to worry about carrying around several different adapters anymore.

This product comes up with some amazing features, which are:


Ultimate Compatibility 


The powerology 15 in 1 dual monitor docking station is compatible with almost every electronic device. Including SDXC, SDHC, SD, and MMC ports. The first step in determining a suitable docking station product is to comprehend what type of expansion ports are built-in to the host laptop. These range from USB 3.0 Type-A ports to USB 3.1/3.2 Type-C ports to Thunderbolt 3 ports. 

Powerology 15 in 1 charging dock station is an excellent gadget to expand your device's port numbers for the ultimate functionality. Find any rare ports in Powerology 15 in 1 dock station.



High-Speed Data Transfer Feature


Ultra-fast data transfer with a rate of 40Gbps for the USB 3.0 port and USB-C port. Extra two USB 2.0 Ports are perfect for your keyboard, mouse, and wireless device. It also offers a Wifi connection to you. You can connect up to 2 external monitors to the dock as long as your laptop will support 2 monitors with resolutions up to 8K30Hz.

USB4 is a significant improvement to the USB architecture, allowing for the coexistence of several data and display protocols on a single high-speed link with an aggregate bandwidth of up to 40Gbps.



Designed For Safe & Secure Usage


The powerology charging cable has two practical heads. It can easily function for most Apple-made devices. The lightning head delivers a great charge in a short time. The USB-C to lightning braided cable with fast charging feature can work as a charger when it is connected to a wall socket. Likewise, it can perform a good data transmission when it's connected to Mac Book or similar devices.
Features

Micro SD Compatible with Micro SDXC, Micro SDHC, UHS-1

SD3.0 Compatible with SDXC, SDHC, SD, MMC

Display Port 1.4 8K@30Hz with MST Support

100 Mbps Network Speed

PD3.0 100W Charging

40Gbps Data Speed

Laptop Charging

8K HDMI 2.1

 Specifications

​USB-C Host Connection: x1 USB3.2 Gen 3 (40Gbps)

USB-A Ports: x3 USB3.2 (10Gbps) with BC 1.2 (7.5W) charging / x3 USB2.0 (480Mbps)

USB-C Ports: x1 USB3.2 (10Gbps) x1 PD3.0 100W Charging

HDMI: x1 HDMI 2.1 8K@30Hz with MST Support

Display Port: x1 Display Port 1.4 8K@30Hz with MST Support

Network: x1 RJ45 Ethernet Gigabit

Audio: x1 3.5mm Jack

Card Reader: x1 SD3.0 Compatible with SDXC, SDHC, SD, MMC x1 Micro SD